Cryptologic X-Men video slot review
---
Background to X-Men video slot
---
When the U.S. government unleashed new-model Sentinels that imprisoned Jean Grey and several other X-Men on a space station, the team escaped to Earth in a shuttle through a lethal solar-radiation storm. Dying from radiation, Jean was touched by the cosmic Phoenix Force, which replicated Jean's form and absorbed a portion of her consciousness. Guiding the shuttle to a crash-landing, the Phoenix Force secretly placed the real Jean in stasis within a cocoon-like pod at the bottom of Jamaica Bay, then took her place in the X-Men. The X-Men subsequently battled the Juggernaut, Magneto, Emperor D'Ken of the intergalactic Shi'ar Empire, the eccentric assassin Arcade, the prehistoric mutant Sauron, Alpha Flight, the reality-altering Proteus, and the Hellfire Club. The Club's probationary member Jason Wyngarde (Mastermind) mentally manipulated the Phoenix, who was rapidly corrupted by her own vast power and, as a result, transformed into Dark Phoenix. Ultimately, Jean's psyche resurfaced and convinced the Phoenix Force to sacrifice itself to save the universe. Believing Jean to be dead, Cyclops quit the team, leaving Storm to lead them in his absence.
---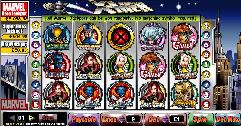 Play X-Men at any of the following Crypotologic Casino:-Intercasino
---
Review of the newly released X-Men video slot
---
Xavier reels around this video slot by subsituting for all symbols other than the scatter Xavier Institute Logo symbol. Any three or more Xavier Insitute symbols activates the Bonus Round. You will be given 4 location spots where you would need to then choose and send an X-Men to each spot. As each one reaches their location, an opponent is revelaed where the X-Men then have to defeat their opponent. Each X-men has a life meter which when it runs out completes the game. Should you not win the fight, a consolation prize will be awarded.
---
Game Guide
---
Reels - 5
Paylines -9
Bet per payline options - 0.05, to 5.00
Maximum coins per line - 1
Highest Pay - 5 000
Wild Symbol - Yes
Multiplier Symbol - No
Scatter Symbol - Yes
Bonus Feature - Yes - Locate and Destroy
Jackpot Game - No
Random Jackpot - Yes
---
Payline Guide
---
Xavier = 4000 x 5 symbols
Magneto = 2000 x 5 symbols
Wolverine = 750 x 5 symbols
Storm = 250 x 5 symbols
Cyclops = 250 x 5 symbols
Jean Grey = 150 x 5 symbols
Rogue = 150 x 5 symbols
Night = 125 x 5 symbols
Gambit = 100 x 5 symbols
Mystique = 100 x 5 symbols
Sabretooth = 100 x 5 symbols
Xavier Institute Logo = 100 x 5 symbols