Cryptologic Monkey Mania video slot review
---
Background to Monkey Mania video slot
---
Monkeys range in size from the Pygmy Marmoset, at 140 to 160 millimetres (5-6 in) long (plus tail) and 120 to 140 grams (4-5 oz) in weight, to the male Mandrill, almost 1 metre (3.3 ft) long and weighing 35 kilograms (77 lb). Some are arboreal (living in trees) while others live on the savannah - diets differ among the various species but may contain any of the following: fruit, leaves, seeds, nuts, flowers, eggs and small animals (including insects and spiders).
---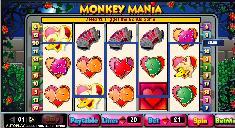 Play Monkey Mania at any of the following Crypotologic Casino:-Intercasino
---
Review of the newly released Monkey Mania video slot
---
This very cute game is a 5 reel x 20 paylines. The Monkey Mania subsitutes for all symbols other than the scatter which will reward you the Bonus Feature should you get 3 or more scattered Hearts. In the Bonus Feature the Macho Monkey must win the heart of the Lady Monkey by selecting on of 5 tasks. While performing these tasks the Monkey Love Meter will rise to win the heart of the Lady Monkey.
---
Game Guide
---
Reels - 5
Paylines - 20
Bet per payline options - 0.01, to 5.00
Maximum coins per line - 1
Highest Pay - 5 000
Wild Symbol - Yes
Multiplier Symbol - No
Scatter Symbol - Yes
Bonus Feature - Yes - Macho Monkey Feature
Jackpot Game - No
---
Payline Guide
---
Monkey = 5000 x 5 symbols
Banana = 1500 x 5 symbols
Love Letter = 500 x 5 symbols
Accordion = 250 x 5 symbols
Box of Chocolates = 250 x 5 symbols
Ace = 150 x 5 symbols
King = 150 x 5 symbols
Queen = 125 x 5 symbols
JAck = 125 x 5 symbols
Ten = 100 x 5 symbols
Nine = 100 x 5 symbols
Heart = 100 x 5 symbols