Realtime Gaming Outta this World video slot review
---
Background to Outta this World video slot
---
Since the launch of Sputnik on 4 October 1957, more than 4,600 launches have placed some 6000 satellites into orbit. Currently about 800 satellites are used operationally for science and other applications. Space debris comprise the ever-increasing amount of inactive space hardware in orbit around the. Earth as well as fragments of spacecraft that have broken up, exploded or otherwise become abandoned. The debris field comprises burnt-out launch vehicle upper stages, dead or inactive spacecraft and other objects ranging in size from as big as an automobile to microscopic dust.
---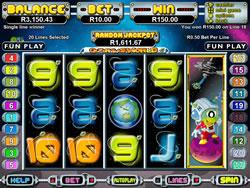 Play Outta this World at any of the following Realtime Gaming Casinos:- Silver Sands (R.S.A), Jackpot Cash (R.S.A.), Club World Casino, Bodog Casino
---
Review of the newly released Outta this World video slot
---
All you need to be entertained in Outta This World is enthusiasm, the ability to let your mind wonder into the land of fantasy, and the grace to accept the great rewards that are in your view. Funky graphics with great animation will be part of your entertainment as you watch the little alien substitute grow and expand over your reels, awarding you with greater opportunities of catching more winning combination all at once. With just two Black Holes you will be beamed into a screen of planets, where you will make the choice out of the 10 on display. Within these planets are hidden free spins and multipliers that could well take you from rags to riches in one spin.
---
Game Guide
---
Theme - Outta Space
Paylines - 1 to 20 paylines
Reels - Five
Denominations - 0.01 to 5.00
Random Jackpot - Awarded anytime
Scatter Pays - Appear anywhere and are multiplied by total bet
Bonus Feature - Yes
Top Award - 40,000 times bet per line per paid spin
Win Direction - Left to right except scattered Black Holes, which pay any direction
Scatter Symbol - Black Hole
Substitute Symbol - Alien
Animating Symbols - Black Hole and Alien
Bonus Feature - When Black Holes appear on reels 2 and 4 the Outta this World feature is triggered. Players select from the 10 planets displayed to reveal free games and prize multipliers. All prizes are doubled during free games
Bonus Feature Trigger - Black Holes appearing on reels 2 and 4
---
Payline Guide
---
Flying Saucer - 7500 x five symbols
Globe - 2500 x five symbols
Space Ship - 1000 x five symbols
Telescope - 1000 x five symbols
Black Hole - 500 x five symbols
Ace - 300 x five symbols
King - 300 x five symbols
Queen - 200 x five symbols
Jack - 200 x five symbols
Ten - 150 x five symbols
Nine - 150 x five symbols