Microgaming Isis video slot review
---
Background to Isis video slot
---
Isis, the Egyptian goddess also known as the goddess of magic and giver of life. The goddess Isis was the first daughter of Geb, god of the Earth, and Nut, the goddess of the Overarching Sky. Isis was born on the first day between the first years of creation, and was adored by her human followers. Unlike the other Egyptian goddesses, the goddess Isis spent time among her people, teaching women how to grind corn and make bread, spin flax and weave cloth, and how to tame men enough to live with them. The goddess Isis, a moon goddess, gave birth to Horus, the god of the sun. Together, Isis and Horus created and sustained all life and were the saviors of their people.
---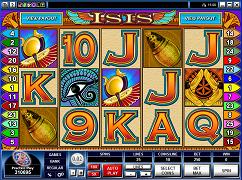 Play Isis at any of the following Microgaming Casinos:- All Slots, All Jackpots, Platinum Play Casino
---
Review of the newly released Isis video slot
---
A video slot embraced by ancient history. Three or more Phoenix in flight will reward you with up to thrity free spins on the wing, and enhance your winning combination with as many as a six times multiplier. Your free spin feature can be re-triggered during play. As in the history, the Goddess Isis will play a major roll here as the giver in the form of a wild card. Subsituting for all symbols other than the scatter Phoenix, Isis will double all your winning combinations. To add to the giving, you may also wish to take the chance and either double or quadruple your ultimate win by entering the Gamble Feature.
---
Game Guide
---
Theme - Egyptian
Reels - 5 Reels
Paylines - 25 Paylines
Coin Sizes - 0.01, 0.02, 0.05, 0.10, 0.20, 0.25
Coins per Payline - 1 - 10
Highest Pay - 100 000 coins
Maximum Jackpot - 10 000 coins x 10 coins per line = 100000 coins in base game.
Scatter symbol - Yes
Wild Symbol - Yes
Free Spins - Yes
Bonus Feature - Yes
---
Payline Guide
---
Isis - 10 000 times 10 coins per line x 5 symbols
Isis Eye - 2000 times 10 coins per line x 5 symbols
Isis Power Wand - 1750 times 10 coins per line x 5 symbols
Winged Isis Symbol - 1500 times 10 coins per line x 5 symbols
Entombed Iisis- 1250 times 10 coins per line x 5 symbols
Papyrus - 1000 times 10coins per line x 5 symbols
Phoenix - 600 times 10 coins per line x 5 symbols
Ace - 500 times 10 coins per line x 5 symbols
King - 250 times 10 coins per line x 5 symbols
Queen- 150 times 10 coins per line x 5 symbols
Jack- 100 times 10 coins per line x 5 symbols
Ten- 75 times 10 coins per line x 5 symbols
Nine- 50 times 10 coins per line x 5 symbols