Realtime Gaming Honey to the Bee video slot review
---
Background to Honey to the Bee video slot
---
Honey is a thick liquid produced by certain types of bees from the nectar of flowers. While many species of insects consume nectar, honeybees refine and concentrate nectar to make honey. Indeed, they make lots of honey so they will have plenty of food for times when flower nectar is unavailable, such as winter. Unlike most insects, honeybees remain active through the winter, consuming and metabolizing honey in order to keep from freezing to death. Early humans probably watched bears and other mammals raid bee hives for honey and then tried it themselves. Once people found out what honey was, next they had to learn how to get it from the bees safely!
---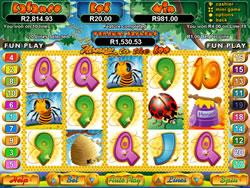 Play Honey to the Bee at any of the following Realtime Gaming Casinos:- Silver Sands (R.S.A), Jackpot Cash (R.S.A.), Club World Casino, Bodog Casino
---
Review of the newly released Honey to the Bee video slot
---
Light hearted, uplifting and great rewards are part and parcel of this very busy bee hive of activities, a great little classic this Honey to the Bees. All symbols other than the scatter symbols in a winning combination are doubled when appearing with the blue eyed wonder busy worker bee substitute. When two or more hives get shaking, you need not shake in your boots, because they are shaking up some honey to fill your pot. One or more blue eyed substitutes on any of the first four reels together with a shaking hive on the fifth reel will have you spinning up to fifteen times and more if re-triggered during the free spin feature. A more uncomplicated swee5t as honey game you will not find anywhere else, so join in the hive of activities and keep filling those pots, and a random Jackpot which could be paid out at anytime irrespective of game bet and winning combination.
---
Game Guide
---
Theme - Nature
Reels - 5
Paylines - 1 to 20 paylines
Denominations - .01 to 5.00
Random Jackpot - Awarded anytime
Scatter Pays - Appear anywhere and are multiplied by total bet
Bonus Feature - Yes
Top Award - 40,000 times bet per line per paid spin
Win Direction - Left to right except scattered Hives, which pay either direction
Scatter Symbol - Hive
Substitute Symbol - Worker Bee
Animating Symbols - Hive and Worker Bee
Bonus Feature - When one or more Worker Bees appear on reels one through four and a Hive appears on reel five, 15 free games are awarded. During the free games all prizes are doubled.
Bonus Feature Trigger - One or more Worker Bees appearing on reels one through four and a Hive appearing on reel five
---
Payline Guide
---
Worker Bee (wild) - 5000 times payline bet
Bee - 1000 times payline bet
Sunflowers - 500 times payline bet
Honey pot - 300 times payline bet
Bee Hive (Scatter) - 100 times payline bet
Ladybird - 300 times payline bet
Ace - 200 times payline bet
King - 200 times payline bet
Queen - 125 times payline bet
Jack - 125 times payline bet
Ten - 100 times payline bet
Nine - 100 times payline bet