Realtime Gaming Penguin Power video slot review
---
Background to Penguin Power video slot
---
Penguins stand straight upright as compared to other birds that lean over. Their feet are far back on their bodies, which causes them to stand in an upright position. Penguins must stand straight upright because this is the only way they can balance their heavy plump bodies. If they stood or walked leaned over like other birds do, they would probably fall over. Penguins can walk or waddle very fast on land. They also move on land by jumping and tobogganing on their bellies. The emperor penguin is the largest of all living penguins, standing 1.1 m (3.7 ft.) and weighing 27 to 41 kg (60 - 90 lbs). The smallest of the penguins is the fairy penguin, standing just 41 cm (16 in.) and weighing about 1 kg (2.2 lb.)
---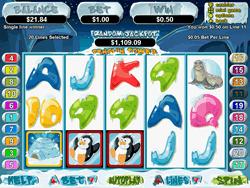 Play Penguin Power at any of the following Realtime Gaming Casinos:- Silver Sands (R.S.A), Jackpot Cash (R.S.A.), Club World Casino, Bodog Casino
---
Review of the newly released Penguin Power video slot
---
Penguin Power will bring you warmth with the great rewards on offer when you have three or more scattered Igloos triggering a feature with giving you up to 25 free games. For every Wild Baby Penguin landing in a horizontal position to an Igloo on reel 1 and/or 5, you will get to watch him slide down to the Igloo and reveal a bonus of anything up to 100 times your triggered bet, or an additional 10 free games, plus adding to this feature are also extra Baby Penguins and Igloos. The Wild Baby Penguin substitutes on reels 2,3 and 4 for all symbols other than the scatters, and doubles your payline winning combination.
---
Game Guide
---
Theme - Reality in Fantasy
Reels - 5 Reels
Paylines - 20 Paylines
Coin Sizes - 0.01; to 5.00
Highest Pay - 40,000 times bet per line per paid spin
Wild Symbol - Baby Penguin
Scatter Symbol - Igloo
Free Spins - Yes
Features - Two
Animating Symbols - Igloo and Baby Penguin
Bonus Features - The Penguin Slide Feature awards 5 to 25 free games. Extra Igloos and Baby Penguins are added to the reels during free games. During the Penguin Slide Feature, each Baby Penguin that appears on the same horizontal level as an Igloo, on reels one and/or five, will slide to the Igloo to reveal bonuses of 5 to 100 times the triggering bet and 2 to 10 additional free games.
Random Jackpot - This may be awarded at any time during play.
---
Payline Guide
---
Penguin - 2,500 for 5 symbols and 5,000 with the Substitute Baby Penguin
Seal - 1,000 for 5 symbols and 2,000 with the Substitute Baby Penguin
Fish - 500 for 5 symbols and 1,000 with the Substitute Baby Penguin
Oyster - 500 for 5 symbols and 1,000 with the Substitute Baby Penguin
Ace - 250 for 5 symbols and 500 with the Substitute Baby Penguin
King - 250 for 5 symbols and 500 with the Substitute Baby Penguin
Queen - 200 for 5 symbols and 400 with the Substitute Baby Penguin
Jack - 200 for 5 symbols and 400 with the Substitute Baby Penguin
Ten - 100 for 5 symbols and 200 with the Substitute Baby Penguin
Nine - 100 for 5 symbols and 200 with the Substitute Baby Penguin