Cryptologic Platinum Pyramid video slot review
---
Background to Platinum Pyramid video slot
---
The Great Pyramid of Giza is the largest in Egypt and one of the largest in the world. Until Lincoln Cathedral was built in 1300 A.D., it was the tallest building in the world. The base is over 52,600 square meters in area. It is one of the Seven Wonders of the World, and the only one of the seven to survive into modern times. The Ancient Egyptians capped the peaks of their pyramids with gold and covered their faces with polished white limestone, though many of the stones used for the purpose have fallen or been removed for other structures.
---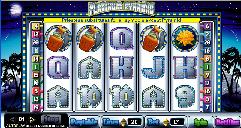 Play Platinum Pyramid at any of the following Crypotologic Casino:-Intercasino
---
Review of the newly released Platinum Pyramid video slot
---
Bets can range from 1c to $5. The jackpot equates to $35,000 at a maximum bet of $5 per line. As a 20 line video slot, this does seem to be the game's major downfall as it does not allow low-risk gamblers to win the jackpot. The pyramid acts as the scatter symbol and hitting 3, 4 or 5 scatter symbols on reels 5, 10 or 15 will trigger a host of free spins. Initial bets are multiplied by 3 during these free spins and they can also be re-triggered.
---
Game Guide
---
Reels - 5
Paylines - 20
Bet per payline options - 0.01, to 5.00
Maximum coins per line - 1
Highest Pay - 7 000
Wild Symbol - Yes
Multiplier Symbol - Yes- during free spins
Scatter Symbol - Yes
Free Spins - Yes
Gamble - No
---
Payline Guide
---
Priestess = 7000 x 5 symbols
Flower = 3000 x 5 symbols
Ushad (eye) = 100 x 5 symbols
Abynus = 500 x 5 symbols
Ank = 500 x 5 symbols
Ace = 250 x 5 symbols
King - 250 x 5 symbols
Queen = 150 x 5 symbols
Jack = 150 x 5 saymbols
Ten x 100 x 5 symbols
Nine = 100 x 5 symbols