Microgaming Age of Discovery video slot review
---
Background to Age of Discovery video slot
---
One particular area of interest, which is central to the story of Solomon, was the fact that he was credited with having employed a large Naval force in the conduct of his trade. In addition to having a navy Solomon is credited with being a shrewd diplomat with alliances to the kingdoms of Sheba, Egypt, and Phoenicia all of which were known to have had extensive seafaring capabilities at this time in ancient history. The Queen of Sheba alone was credited with having over 400 seafaring ships for conducting exploration and trade.
---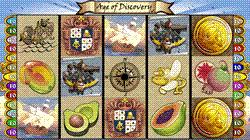 Play Age of Discovery at any of the following Microgaming Casinos:- All Slots, Platinum Play Casino
---
Review of the newly released Age of Discovery video slot
---
Ahoy! We invite you to get aboard this wonderful adventure as it sails into the unknown where you have to choose anything of up to 28 hidden treasure spots when encountered with three or more Compass symbols. Remember to add to your payline win you need three or more scattered Gold Coins as they substitute for all symbols other than the Scatter and treasure symbols, while the Dragon Boat scatter sails into view multiplying your staked bet with three or more symbols appearing all at once.
---
Game Guide
---
Theme - Exploration
Reels - 5 Reels
Paylines - 25 Paylines
Coin Sizes - 0.01, 0.02, 0.05, 0.10, 0.20, 0.25,0.50
Coins per Payline - 1 - 10
Highest Pay - 60,000 coins
Maximum Jackpot - 6 000 coins x 10 coins per line = 60,000 coins in base game. 25 lines x 10 coins per line x 129 multiplier = 32 250 coins in bonus game
Scatter symbol - Yes
Wild Symbol - Yes
Free Spins - No
Feature - Yes - pick until stop
Bonus Feature - Yes
---
Payline Guide
---
Gold Coin (Wild) - 6 000 times 10 coins per line
Compass Treasure Bonus - 25 times 10 coins per line x 129 multiplier
Sailing Boat - 1000 times 10 coins per line
Coat of Arms - 800 times 10 coins per line
Sextant - 600 times 10 coins per line
Paw Paw - 200 times 10 coins per line
Pomegranate - 175 times 10 coins per line
Mango - 150 times 10 coins per line
Avocado Pear - 100 times 10 coins per line
Dragon Boat (scatter) - 80 times 10 coins per line
Banana - 50 times 10 coins per line