Realtime Gaming Hillbillies video slot review
---
Background to Hillbillies video slot
---
It is believed that the term hillbilly in the United States was conferred during the early 18th century by the occupying British soldiers as a carry over from the Irish term, in referring to Scots-Irish immigrants of mainly Presbyterian origin, dwelling in the frontier areas of the Appalachian Mountains. These Protestant Irish colonists brought their cultural traditions with them when they immigrated. Many of their stories, songs, and ballads dealt with the history of their Ulster and Lowland Scot homelands, especially relating the tale of the Protestant King William III, Prince of Orange.
---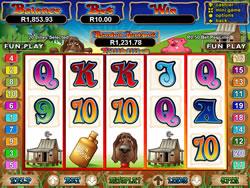 Play Hillbillies at any of the following Realtime Gaming Casinos:- Silver Sands (R.S.A), Jackpot Cash (R.S.A.), Club World Casino, Bodog Casino
---
Review of the newly released Hillbillies video slot
---
If you are lucky enough to have Billy Bob, Billy Bubba, or Billy Jo with you, you can rest assured you are in for a rich strike, but should the whole hillbilly family shows up during a win, you could be blessed with anything up to 20 times your winning combination. Not only that, if two or more of these Hillbillies should show up, eight free games will be rewarded with your winning combination paying double. During free games, Hillbillies on reels one, three and five award a bonus prize of a two or five multiplier. The bonus prize is multiplied by the triggering bet and is added to payline and scatter wins. To top the game, a random progressive jackpot is in play, and could be rewarded irrespective of the present game play.
---
Game Guide
---
Reels - 5
Paylines - 1 - 20
Random Jackpot Awarded anytime
Scatter Pays Appear anywhere and are multiplied by total bet
Bonus feature - Yes
Top Award - 40,000 times bet per line per paid spin
Scatter Symbol - Yes
Animating Symbol - Hillbillies
Bonus Feature - When two or more scattered Hillbillies appear anywhere, the Free Games feature is triggered and eight free games are awarded. All prizes are doubled except Hillbillies Bonus
Bonus feature Trigger - Three or more scattered Hillbillies left to right and visa versa
---
Payline Guide
---
Dog - 250 with five dogs and 5000 with all three Hillbillies showing
Pig in tub - 200 with five pigs and 4000 with all three Hillbillies showing
House - 150 with five houses and 3000 with all three Hillbillies showing
Moonshine - 150 with five bottles and 3000 with all three Hillbillies showing
Ace -125 with five symbols and 2500 with all three Hillbillies showing
King -125 with five symbols and 2500 with all three Hillbillies showing
Queen - 100 with five symbols and 2000 with all three Hillbillies showing
Jack -100 with five symbols and 2500 with all three Hillbillies showing
Ten - 100 with five symbols and 2000 with all three Hillbillies showing
Nine -100 with five symbols and 2500 with all three Hillbillies showing