Microgaming Hitman video slot review
---
Background to Hitman video slot
---
The HITMAN series is about killing for money, where there are no rules to abide by, only contracts to be executed. The Hitman Contracts, which is one in a series, takes you deeper into the mind of Agent 47. You enter a world of crime, sin and greed, where one encounters great adversaries, completing the work that made him so ruthlessly efficient and deadly and precise. It is this that has transformed and shaped him into an assassin. Travel takes the player to anywhere the work requires, from assignments world wide. With one mission in mind only and that is to kill, nothing else counts except the assigned target. The players takes on the role of 47 and undertakes do what is necessary to get the job done. In the hands of a professional Hitman, everything he touches becomes a weapon for destruction.
---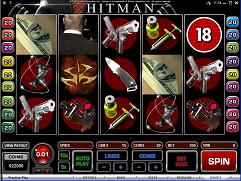 Play Hitman at any of the following Microgaming Casinos:- All Slots, All Jackpots, Platinum Play Casino
---
Review of the newly released Hitman video slot
---
Agent 47 otherwise known as Hitman is looking to recruit anyone who would dare to accompany him on his mission to kill. Licensed to make the Killing and break the Bank, his cool, hard exterior may just fool you. Hitman is a 15 line x 5 reels American themed video slot. It has an on-screen bonus Pick X of Y, expanding wilds that appear on reels 2, 3 and/or 4, 18 Free Spins at a 2x multiplier. Hitman video slot is filled with conspiracy and mystery, which is bound to keep you pretty much alert. With Expanding Wilds, and a bonus feature. Select your target, select your weapon and get ready for the 2nd bonus feature – the Contract Bonus…this highly interactive, suspense-filled bonus will make you a killing…try it for yourself.
---
Game Guide
---
Theme - Hitman/Assassin
Reels - 5 Reels
Paylines - 15 Paylines
Coin Sizes - 0.01, 0.02, 0.05, 0.10, 0.20, 0.25
Coins per Payline - 1 - 20
Highest Pay - 80 000 coins
Maximum Jackpot - 4 000 coins x 20 coins per line = 80000 coins in base game. 4 000 coins x 20 coins per line x 2 (Multiplier) = 160 000 coins in Free Spins Game. 20 times multiplier x 20 coins per line x 15 lines = 6 000 in On Screen Bonus . 150 x multiplier x 20 coins per line x 15 lines x 6 times multiplier = 270 000 coins in Off Screen Bonus
Scatter symbol - Yes
Wild Symbol - Yes (expanding)
Free Spins - Yes
Feature - Yes (Free Spins)
Bonus Feature - Yes
---
Payline Guide
---
Marksman/Hitman- 4000 times 20 coins per line x 5 symbols
Faceless Hitman - 2000 times 20 coins per line x 5 symbols
Hitmans Back - 1500 times 20 coins per line x 5 symbols
Money - 1000 times 20 coins per line x 5 symbols
Hand Guns- 250 times 20 coins per line x 5 symbols
Rifle - 200 times 20coins per line x 5 symbols
Drugs vile and syringe - 150 times 20 coins per line x 5 symbols
Knife - 100 times 20 coins per line x 5 symbols
Strangling cord - 75 times 20 coins per line x 5 symbols