Playtech Gold Rally video slot review
---
Background to Gold Rally video slot
---
For years, gold was the stepchild of investments. After hitting an all-time high of $850 an ounce back in March 1980, gold slithered downward, falling below $300 an ounce by 1985. All the gold known to exist in the world today, regardless of what form or where it's located, if turned into a solid block, would be only twice the size of the Statue of Liberty. After breaking decisively through $400 an ounce in 2004, gold this year made a successful run at $500. This alone generated some buying by hedge funds and others who use technical analysis.
---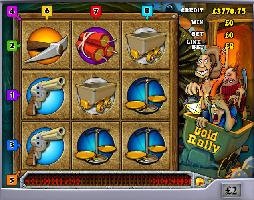 Play Gold Rally at any of the following Playtech Casinos:- Casino Las Vegas (R.S.A.), Windows Casino, City Club Casino, Golden Palace Casino
---
Review of the newly released Gold Rally video slot
---
This is Playtech's answer to Microgaming's popular Major Millions progressive slots game. To date, Gold Rally has made 7 new millionaires. The game is fixed at $2 and functions as a 9 reel, 8 pay line progressive slot. However, due to the fact that one has to place a maximum bet ($18) to stand a chance of winning the progressive jackpot, this game can be relatively expensive to play.
There are no wild symbols in this game, but there is a scatter pay and bonus feature. A dynamite symbol in each corner opens up the bonus round where extra coins can be won. Although this game is expensive, the payout may make it well worth a player's while.
---
Game Guide
---
Reels - 9
Paylines -8
Bet per payline options - $2.00 fixed
Highest Pay - Progressive Jackpot
Maximum Coins - 1 coin per payline
Wild Symbol -No
Multiplier Symbol - No
Scatter Symbol - No
Bonus Feature - Yes
Gamble - No
---
Payline Guide
---
3 Cr Symbols = 500 coins
3 Horseshoes = 200 coins
3 Pickaxes = 100 coins
3 Lanterns =75 coins
3 Guns = 50 coins
3 Mining Carts = 10 coins
3 Bags of Gold = 30 coins
3 Scales = 20 coins
3 Bundles of Dynomite = 10 coins
2 Horseshoes = 10 coins
1 Horseshoe = 2 coins
1 stick of Dynomite in all 4 corners = Bonus Round