Playtech A Night out video slot review
---
Background to A Night Out video slot
---
A Night Out could mean many things for many people. For the bachelor, this is more than likely to take place among one or a few bars with friends. Often this is just for the sake of guys getting together to enjoy each others company and exchange a little "boys talk". From the female perspective - this is a senario where ladies get together also with the idea of "girl talk" and sharing their life stories and in general having a good time with a meal and a few drinks. Unlike a Bachlor Party or Hens Party there is no dressing up or making fun of and with an individual person.
---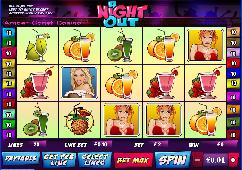 Play A Night Out at any of the following Playtech Casinos:- Casino Las Vegas (R.S.A.), Windows Casino, City Club Casino, Golden Palace Casino
---
Review of the newly released A Night Out video slot
---
This is definitely a slots game that appeals to the male market. Featuring scantily clad gorgeous women in a trendy bar, this 5 reel, 20 pay line game relishes in fantastic graphics and sound effects. The betting range is from 1c to $5 which allows gamblers from all mindsets to join in. Strikig the wild Beer Mug symbol five times will earn a player 10,000 coins times the betting line. Striking two wild symbols wins an extra 10 coins. The scatter symbol is the Dancing Lady and this can multiply the bet by up to 50 times. Striking the Bartender on lines 1 and 5 at the same time opens up the bonus round. In this round, the player gets to choose between 5 ladies who are in need of a drink. The choice of drink bought for the chosen lucky lady will determine how many free spins are awarded.
---
Game Guide
---
Reels - 5
Paylines - 20
Bet per payline options - $0.01, $0.02, $0.05, $0.25, $0.50, $1.00, $2.00, $5.00
Highest Pay - 50 000 in main game.
Maximum Coins - 1 - 10 coins per payline
Wild Symbol - Yes
Multiplier Symbol - yes
Scatter Symbol - Yes
Feature - Yes - Free spins from pick and choose bar
Gamble - No
---
Payline Guide
---
Barman Activates Bonus pick
Mug of Beer - 10 000 times line bet
Blonde - 1 000 times line bet
Red Head- 500 times line bet
Brunette - 400 times line bet
Pineapple Drink - 300 times line bet
Strawberry Drink - 250 times line bet
Orange Drink - 200 times line bet
Pear Drink - 150 times line bet
Kiwi Fruit Drink - 100 times line bet
Scatter Dancer - 50 times line bet