Playtech Ugga Bugga video slot review
---
Background to Ugga Bugga video slot
---
There is something about spending the day in an African jungle that can have a positive effect on anyones mood. Perhaps it is the fact that one can just sit in the middle of a baboon village, while hundreds of these primates continue with their daily activities in every direction, or watch from a distance as the Elephant herds or prides of Lion mill around the watering hole. The African Jungle holds a great many jewels of nature not least of them the different African Tribes - each with their own culture, language and primitive life style.
---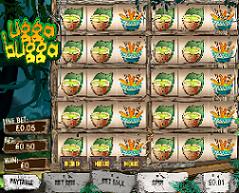 Play Ugga Bugga at any of the following Playtech Casinos:- Casino Las Vegas (R.S.A.), Windows Casino, City Club Casino, Golden Palace Casino
---
Review of the newly released Ugga Bugga video slot
---
This game is themed in a jungle setting, where the name Ugga Bugga supposedly originates. This is a multispin slot where 10 individual games spin at the same time. Each has its own 3 reels. On the first bet, the game will allow the gamer to spin and one symbol can be held across the other 9 games. The two reels remaining will then spin on the other games. This hold function appeals to those who like a dynamic slots experience. Ugga Bugga has a maximum payout of $25,000 for a maximum bet. Although there are higher paying slots found at most online casinos, the game's ease and charm make it an attractive option.
---
Game Guide
---
Reels - 30
Paylines - Multiline
Bet per payline options - $0.01, to $1.00
Maximum coins per line - 5
Highest Pay - 1000
Wild Symbol - Yes
Multiplier Symbol - No
Scatter Symbol - No
Feature - Yes - hold one, two or three symbols and re-spin
Gamble - No
---
Payline Guide
---
3 Wilds = 100 x 5 coins
3 Black Masks = 125 x 5 coins
3 Red Masks = 100 x 5 coins
3 Orange Masks = 75 x 5 coins
3 of any Marks = 25 x 5 coins
3 Black Drums = 50 x 5 coins
3 Red Drums = 35 x 5 coins
3 Orange Drums = 20 x 5 coins
3 of any Drums = 10 x 5 coins
3 of masks and Drums = 5 x 5 coins
3 Mud Huts - 30 x 5 coins
3 Straw Huts = 20 x 5 coins
3 Wooden Huts = 10 x 5 coins
3 of Any = 5 x 5 coins
3 Blue Bowls of Food = 15 x 5 coins
3 Green Bowls of ood = 5 x 5 coins
3 of any Bowls = 5 x 5 coins
2 Wild Cards = 2 x 5 coins
1 Wild = 1 x 5 coins
3 Africans with Shield = 5 x 5 coins
2 Africans with Shield = 2 x 5 coins
1 African with Shield = 1 x 5 coins