Realtime Gaming Achillies video slot review
---
Background to Achillies video slot
---
Achilles was the son of the mortal Peleus and the Goddess Thetis. Thetis tried to make her son immortal by dipping him into the River Styx, while holding him by his one ankle. His ankle was therefore the only portion of him capable of sustaining a mortal wound, which he received from a goddess-guided arrow shot by Paris of Troy. The mortality of Achilles is also explained as having been caused by an unsuccessful application of the treatment for immortality -- ambrosia by day and fire by night.
---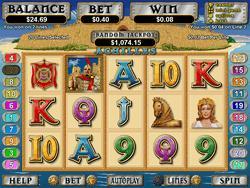 Play Achillies at any of the following Realtime Gaming Casinos:- Silver Sands (R.S.A), Jackpot Cash (R.S.A.), Club World Casino, Bodog Casino
---
Review of the newly released Achillies video slot
---
A thrilling game with great added extras. Achilles a wild substitute symbol doubles as a scatter which triggers a feature which will reward you with up to 25 free games. During this feature, all Troy symbols change to either Achilles or Helen which add to your rewards and give greater payline opportunities A second feature is rewarded when three or more scattered City of Troy symbols reveal a further 10 free games, which may also be retriggered when 3 or more mixed Achilles or City of Troy's appear. Value for money in this very entertaining vide slot which also has a Random Jackpot in play at all times.
---
Game Guide
---
Achilles - 10,000 for 5 symbols
Helen - 5,000 for 5 symbols
Trojan Horse - 1,250 for 5 symbols
Coat of Arms - 800 for 5 symbols
Shield - 800 for 5 symbols
City of Troy - 500 for 5 symbols
Ace - 400 for 5 symbols
King - 400 for 5 symbols
Queen - 250 for 5 symbols
Jack - 250 for 5 symbols
Ten - 200 for 5 symbols
Nine - 200 for 5 symbols
---
Payline Guide
---
Achilles - 10,000 for 5 symbols
Helen - 5,000 for 5 symbols
Trojan Horse - 1,250 for 5 symbols
Coat of Arms - 800 for 5 symbols
Shield - 800 for 5 symbols
City of Troy - 500 for 5 symbols
Ace - 400 for 5 symbols
King - 400 for 5 symbols
Queen - 250 for 5 symbols
Jack - 250 for 5 symbols
Ten - 200 for 5 symbols
Nine - 200 for 5 symbols