Microgaming Pharaohs Tomb video slot review
---
Background to Pharaohs Tomb video slot
---
Pharaohs wore insignia of office, like any other king, such as the dual crown, consisting of the white crown of Upper Egypt and the red crown of Lower Egypt, and a special wooden 'beard'. The pharaoh was usually male, with the notable exceptions of Hatshepsut and Cleopatra, but inheritance through the female line was fully recognized to the extent that marriage to the pharaoh's daughter conferred a right to the throne. Many pharaohs went to war when their land was threatened or when they wanted to control foreign lands. If the pharaoh won the battle, the conquered people had to recognise the Egyptian pharaoh as their ruler and offer him the finest and most valuable goods from their land.
---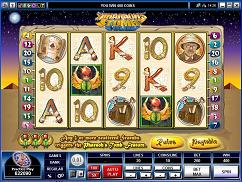 Play Pharaohs Tomb at any of the following Microgaming Casinos:- All Slots, All Jackpots, Platinum Play Casino
---
Review of the newly released Pharaohs Tomb video slot
---
Any three or more Scattered Scarabs will trigger the Pharaoh's Tomb feature. You will be presented with three Tombs - In one of the three Sarcophagi is a hidden key - should you select the one with the key, the door will open into the next level. At each level you would need to find the key to open the door to the next level. Find all three keys to open your Pharaoh's treasure where you could win upto the 100 times your triggered bet. Also awarding you treasures is the Pharaoh which substitutes in reels 1 and 5 for all symbols other than the Scarab scatter.
---
Game Guide
---
Theme - Egyptian
Reels - 5 Reels
Paylines - 20 Paylines
Coin Sizes - 0.01, 0.02, 0.05, 0.10, 0.20, 0.25
Coins per Payline - 1 - 20
Highest Pay -120 000 coins
Maximum Jackpot - 3 000 coins x 20 coins per line x 2 = 120 000 coins in base game.
Scatter symbol - Yes
Wild Symbol - Yes
Free Spins - No
Feature - Yes
Bonus Feature - Yes
---
Payline Guide
---
Archaeologist - 3000 times 20 coins per line x 5 symbols
Statue of Pharaoh -1000 times 20 coins per line x 5 symbols
Archaeologist Tool Bag - 500 times 20 coins per line x 5 symbols
Map - 500 times 20 coins per line x 5 symbols
Ace- 200 times 20 coins per line x 5 symbols
King - 200 times 20coins per line x 5 symbols
Queen - 150 times 20 coins per line x 5 symbols
Jack - 150 times 20 coins per line x 5 symbols
Ten- 100 times 20 coins per line x 5 symbols
Nine- 100 times 20 coins per line x 5 symbols