Playtech Lotto Madness video slot review
---
Background to Lotto Madness video slot
---
In the West, the lottery originated when the Emperor Augustus (63 B.C.~ 14 A.D.) sold lottery tickets and gave out prizes such as, houses, and boats at a feast in order to raise money for the reconstruction of Rome. The emperor's distribution of various prizes to guests at a feast by drawing a lot became popular in ancient Rome since the reign of its first emperor, Augustus. The guests received precious prizes after drawing from a collection of receipts that they got after paying for the meal. Nero, the fifth emperor of Rome, gave out jobs, lands, slaves, and ships by holding massive lottery events everyday in order to commemorate the perpetuity of Roman Empire.
---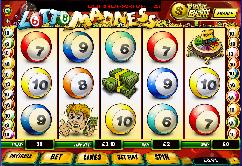 Play Lotto Madness at any of the following Playtech Casinos:- Casino Las Vegas (R.S.A.), Windows Casino, City Club Casino, Golden Palace Casino
---
Review of the newly released Lotto Madness video slot
---
This 20 line slots game is one of Playtech's best and is the first game developed by Playtech to feature a side jackpot. This side jackpot option can be selected before every spin. This is done by selecting the Side Ball and 5 numbers between 1 and 49. The balls are spun at the same time as the slot with 5 complete matches winning the grand jackpot prize. Other prizes of lower denominations are also awarded for part matches. If the scatter symbol which is the "$" sign is struck on lines 1 and 5, the bonus feature is triggered. This offers the player multipliers and free spins.
---
Game Guide
---
Reels - 5
Paylines - 20
Bet per payline options - $0.01, $0.02, $0.05, $0.25, $0.50, $1.00, $2.00, $5.00
Highest Pay - 50 000 in main game.
Maximum Coins - 1 - 10 coins per payline
Wild Symbol - Yes
Multiplier Symbol - yes
Scatter Symbol - Yes
Feature - Yes - Free spins from Crazy Spin Wheel
Gamble - No
---
Payline Guide
---
Bonus Symbol Activates Bonus pick
Wild Card Symbol - 10 000 times line bet
Money - 1 000 times line bet
Champaign - 500 times line bet
Gambler - 400 times line bet
6th Ball - 300 times line bet
7th Ball - 250 times line bet
8th Ball - 200 times line bet
9th Ball - 150 times line bet
10th Bll- 100 times line bet
Scatter Dollar Symbol- 50 times line bet